Last year in London there was a special event called Hyper Japan. It was a chance to experience many aspects of Japanese culture- animation, technology, film, food, and (most importantly for me) fashion!
At this event, KERA magazine brought six brands to England for the first time-
Moi-même-Moitié,
Angelic Pretty,
Innocent World, Sex Pot ReVeNGe, Black Peace Now and
Baby, the Stars Shine Bright
. There was a competition to find six girls to represent the brands in a fashion show, and I was lucky enough to be chosen as Innocent World's model! It was really a great honour and a very special memory for me.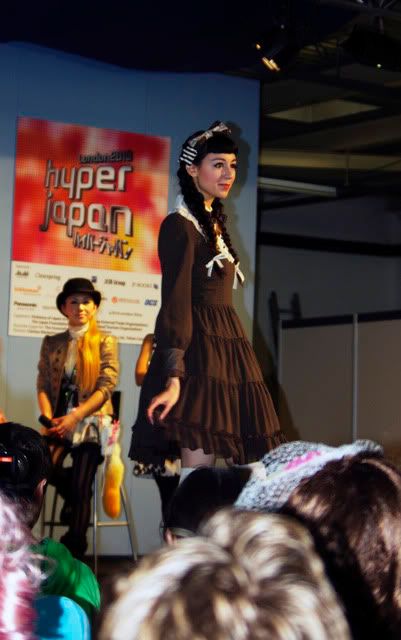 You can see the video here:
The fashion show starts from 5.07. I love Joanie/ Lunie-chan, AP's model. She has a beautiful face and great style, just the perfect look for AP's pop and cute aesthetic. Apparently two brands were fighting over the Sex Pot model, Amber, and I can see why! Maybe her face looks familiar to you? She is in an advertising campaign right now!
I have to say a hearfelt thank you to all the KERA and Hyper Japan staff. It was very inspiring to meet Mr Matsumura of KERA. He seems like he cares very deeply about street fashion, and he was so enthusiastic about Hyper Japan too! I'm studying fashion design at the moment, and currently my course is very busy and stressful. My course pushes students towards a high fashion look, but my passion is for street fashion, so I often feel conflicted between respecting my tutors' advice and following my own taste. I try to strike a balance, but it is frustrating sometimes. Sometimes I feel like giving up, but when I think of how much I love Lolita fashion, and how there are kind people like Mr Matsumura and Ms Fujiwara out there in the industry, I know that there is hope and that I'm strong enough to keep striving.
The dates for this year's Hyper Japan have been announced:
Friday 22, Saturday 23 and Sunday 24 July 2011.
I hope you'll be able to make it! It's a great chance for UK and Euro Lolitas. I can't wait to see what events are planned for this year.
You can check their homepage here: http://hyperjapan.co.uk/