Last weekend I took part in two Lolita fashion shows as part of Brighton Japan Festival!
~coat is by Innocent World~
I arrived at the festival quite early somehow! I had a chance to eat some takoyaki before the show. I don't know if it's my absolute favourite food, but it must be somewhere in the top ten! I'm really fond of Japanese mayonnaise too. All mayonnaise is good, but JP mayo is more eggy, and therefore the best!
Now you know how greedy I am, on to the first fashion show! This was the "Sweet Lolita Catwalk"; you've basically seen my outfit before but for the show I changed my hairstyle to a shoulder-length wig and my shoes to the plain white mary-janes, to make it even more ama-loli!
JSK- Metamorphose
Bow- Handmade
Everything else- Vintage and offbrand
My lovely friend, ichigo_shock, who organised the catwalk, also provided us with these cute balloons!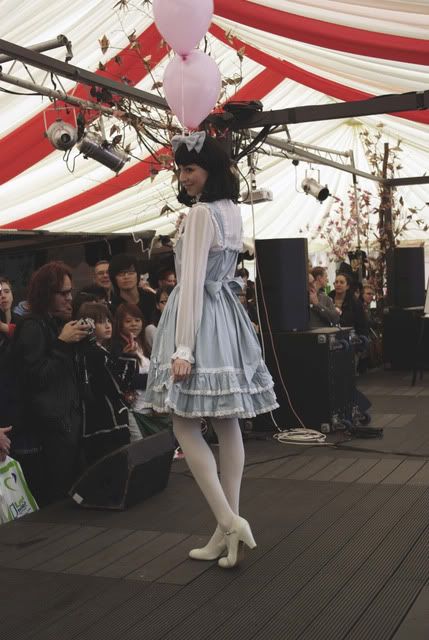 I always get nervous about this sort of thing, but once I was on the stage I really enjoyed myself! The audience were very smily and nice, so I think that helped.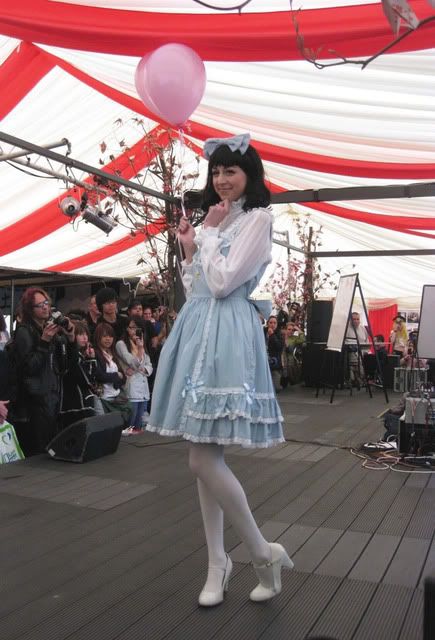 All the Sweet Lolita models came out together at the end. The other girls all looked so amazing, and I loved how everyone had their own style! I felt very inspired seeing their wonderful coordinates, and I want to try harder with my own, especially with accessories.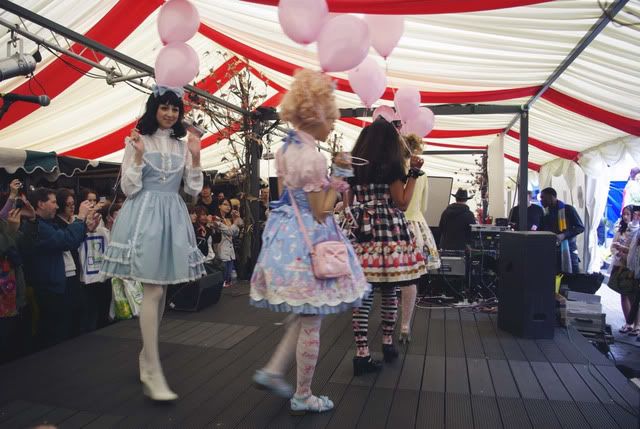 You can see the wonderful Herajika in the picture above, looking as usual as if she leapt from the pages of GLB! In the strawberry dress is azura_mel, one of the prettiest girls I've ever seen <3
There was a gap between this show and the later one. I took the opportunity to look around the festival. There were quite a few things going on. and a fair few people, though the weather was rather grey and dreary. This somewhat mis-matched couple came to soak up the atmosphere: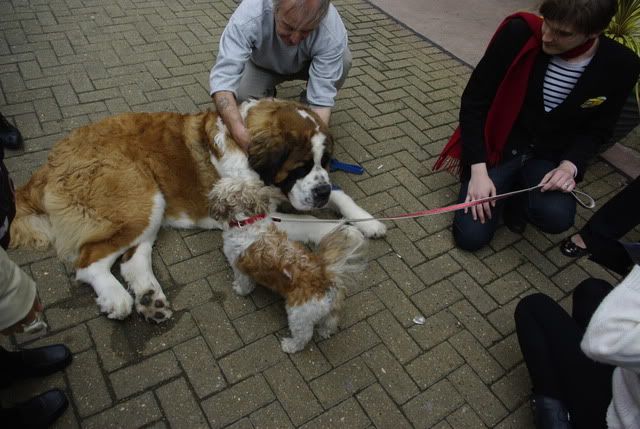 Too cute!
On to the second show, the Gothic Lolita Catwalk! This one was also really fun; I tried to channel a bit of 'vampire romance' into my walk.
OP- Juliette et Justine
Tights- Vivienne Westwod
Corsages, sash- Handmade
Everything else- Vintage and offbrand
I don't really have many strictly Gothic items, but I did my best and I think this coord could be called "Classic-Gothic" at least! A bit difficult to see in these pictures, but I wore a sheer blouse, chiffon sash and lace tights. Please use your imagination!
I changed my wig too! I haven't worn wigs before, only extensions occaisonally, so I was a little apprehensive of them falling off my head into the terrified audience. Luckily they stayed on! And they kept my little head nice and warm too.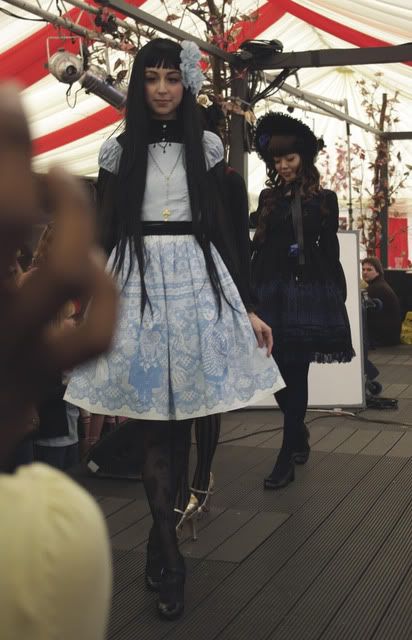 With beautiful Herajika again (she made that bonnet! So talented!), and you can just about see a glimpse my friend Wing's fabulous gold shoes.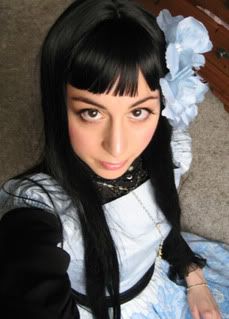 I had a lot of fun at the festival! I hope you enjoyed the pictures. See you again soon!