Hello! Sorry for a lack of updates recently. I've got an interesting post this time though!
To celebrate a dear friend's recent birthday, we had a day out in London. We visited the Courtauld Gallery and went to Ladurée in Harrods. The gallery was beautiful! It's small, but charming and full of treasures! The gift shop was very tempting too.
I tend to favour a onepiece dress for special occaisions, so I wore the brown chiffon I won in the KERA competition. I coordinated with a lot of brown items to create a mature impression. The delicate chiffon, lace and corsages soften the look.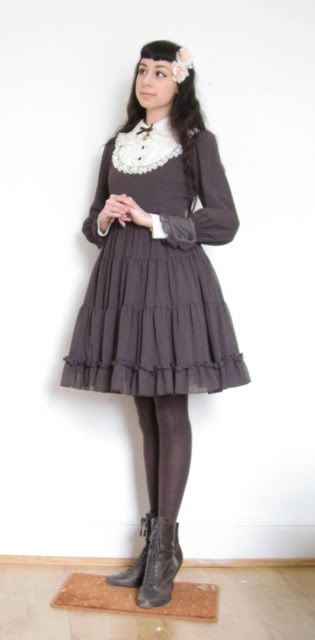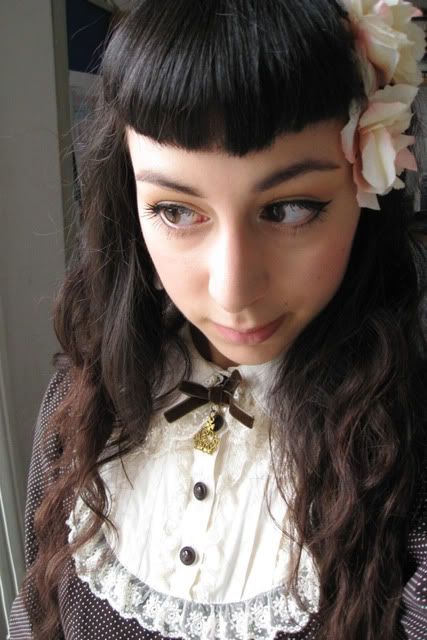 ~Rundown~
Onepiece, necklace- Innocent World
Everything else- Offbrand
As for Ladurée, we were unfortunately seated in the most vulgarly decorated area of the restaurant. It was pseudo-barouque with a silver and black colour scheme and rather bizarre melting mirrors, something between Napoleon's tomb and the inside of Dracula's coffin as imagined by Lawrence Llewellyn-Bowen. However the food more than made up for it!
We ordered L'heure du thé, which includes sandwiches, pastries, tea and cakes. We had four different types of tea, it was heaven! I particularly recommend the rose tea and the jasmine tea. I tried the Marie Antoinette tea in Paris which was very good, but it doesn't seem to be available in London.
The sandwiches were adorably wrapped in waxed paper, but were a bit dry.... The main feature were the cakes though, which were faultless. Please try the Plaisir Sucré!
I hope you enjoyed today's post. See you next time!
~PS~
Regarding recent events in Japan, I do hope that all my readers' loved ones are safe and well. I'm sending all my best wishes to those who have been affected by this terrible situation. Please check this link on egl for more information
here
.
With love from Sapphira