I miss these girls!
Before I went on holiday I made arrangements to meet up with a group of Singaporean Lolitas. I managed to meet up with most people twice, but I wish it could have been more!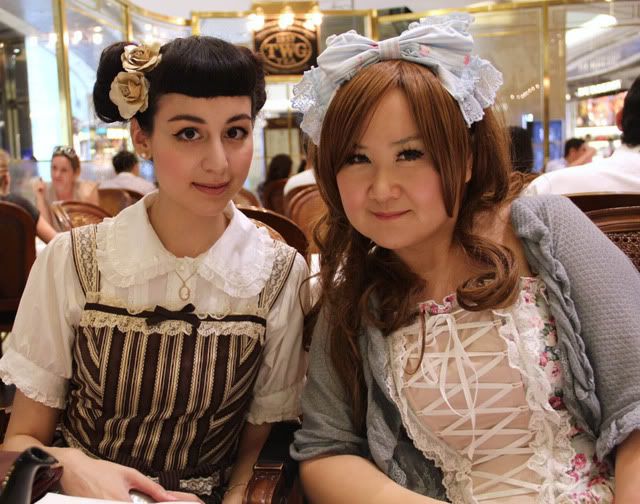 For the first meet-up we went to a very nice restaurant called TWG, which has the most amazing selection of teas (as well as the menu, there is a seperate tea book), plus delicious sweets! I had the "Dancing Tea", which is supposed to remind you of Victorian tea dances. The restaurant itself is a very pleasant setting for drinking tea (I stole this picture from the beautiful and elegant Karmen, hope she doesn't mind!).
The TWG we went to was the one in ION, a huge, shiny shopping mall in Orchard Road which also contains a Daiso! Well, there are also many more interesting shops, but I do love Daiso. I got these cute and useful laces and some eyelashes. We continued shopping at Far East Plaza, and then went to Bugis Street where I was tempted by some pretty vintage dresses. I think the shop staff there were quite impressed with our group! There was another shop selling cute jewellery, and I think it was three of us who ended up buying exactly the same pair of earrings. Earring triplets! We took purikura together too, as you can see. The eye-enlargening effect was quite amusing in some pictures!
I loved the tea and the shopping, but I enjoyed the company most of all. Although I'm a bit shy, the Singapore girls were so friendly and kind and welcoming that I really had a great time with them. I'm glad I made an effort to contact them, and I'm grateful that they came to meet me! I feel very lucky indeed to have got to know so many nice people from all over the world through this fashion.
By the way, I'm going to see Versailles play in London on Sunday! Kamijo was my idol when I was in sixth form; I would spend my free periods in the library looking at LAREINE pictures, and even used to write his name on my school books. Looking back, I think a sixth-former perhaps should have been more mature, but oh well, I loved him!
I even half-destroyed my hair with bleach in sympathy with him! Him and Oscar de Jarjayes....
Seeing D was my first live, and I loved it. Maybe I prefer D's music to Versailles', but still, I'm very excited. I'll be in the same room as Kamijo! What's more, I'm looking forward to seeing my lovely friends again. Are any of my readers going? Hope to see you there too!