Hello readers! I think the fashion show at Hyper Japan deserves a post all to itself, so here it is! Thanks again to my lovely Asako for her photos.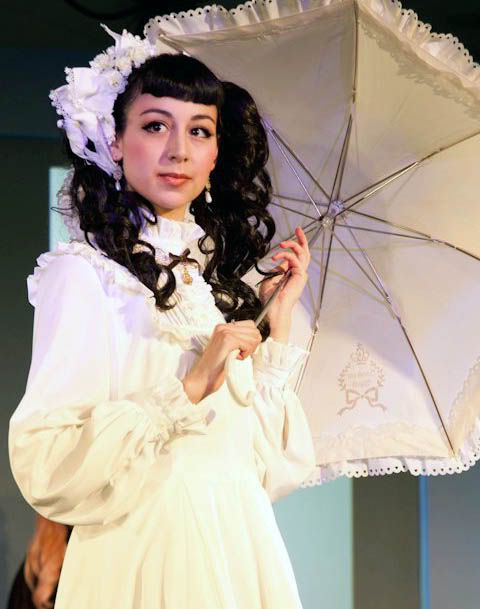 This photo courtesy of Saoirse Clohessy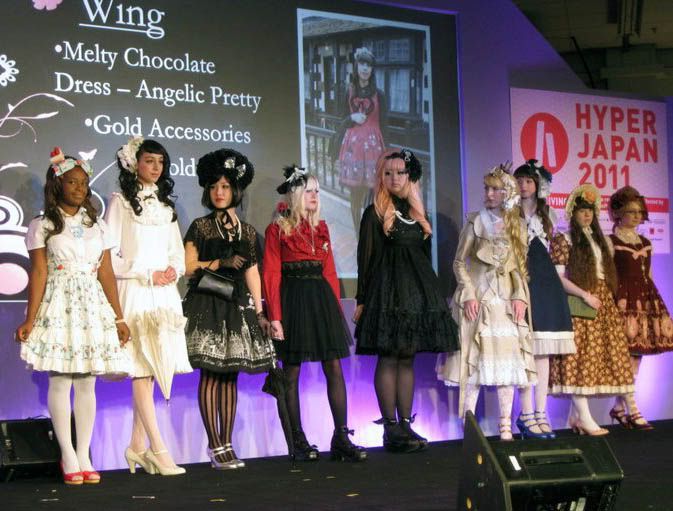 All the models, minus Wing! I'll show you her beautiful coord a little later. Doesn't Amy (second from the right) look like she stepped out of a painting? She designed the dress and bonnet, and her mother made them. She also made a bag out of an antique book! I think her book bag beats Innocent World's and Alice and the Pirates', much as I love them both.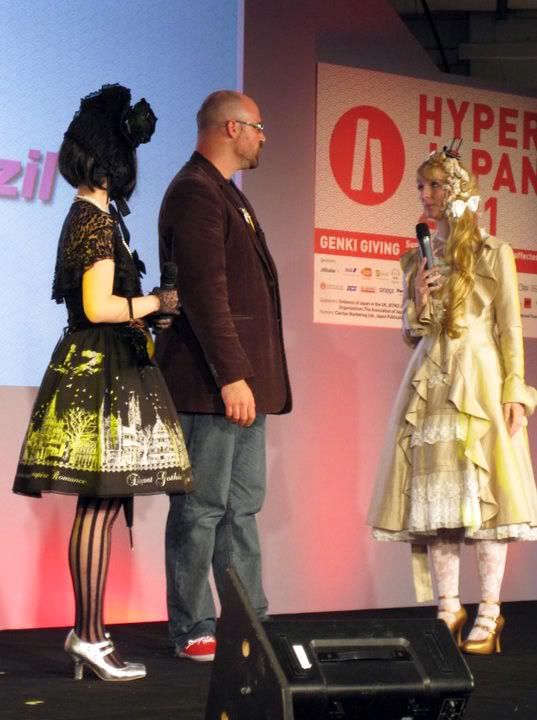 The show started off with an introduction from Tania (left) and Kyra (right). We're so lucky to have these lovely girls in our community, they organise so many wonderful events including those at Hyper Japan. And of course they are both very pretty!
Tania's looks remind me of Arika-sama, so I really think these kind of aristocratic outfits look very good on her. The print of her Moitié skirt looks gold in this picture, but in fact it's silver and matches her shoes and the ribbon decorating her bonnet perfectly. I don't have a good picture of her by herself yet, but I'll add more photos later!
Oh, I don't think I've ever been so jealous of another girl's outfit in my life! This beautiful coat and dress set is from Juliette and Justine, and they remind me why this is one of my favourite brands. These items are not the only thing to be admired however- I loved Kyra's hairstyle too!
Dodo is so cool <3 I love her eclectic and exciting style, and her hair and make-up skills are amazing. I think the Vivienne Westwood sandals make this look, and she is someone who can really carry them off!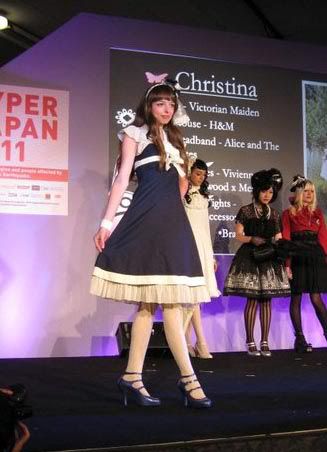 Pretty Chrissi again! It's a simple outfit, but beautifully put together and stunning on her.
Mae is so cute! She had an adorable character onstage (and off).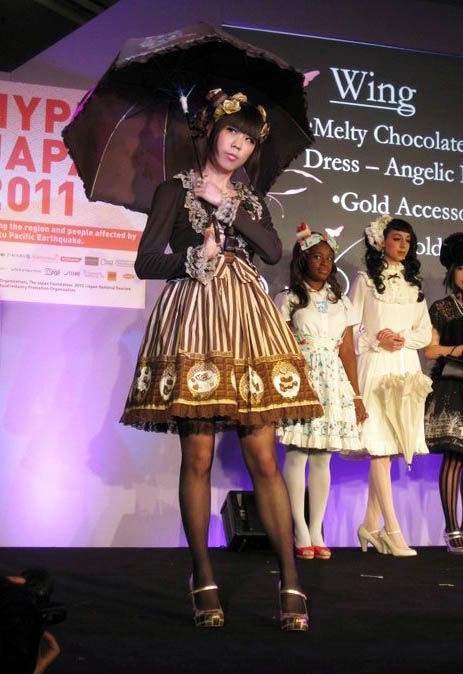 Wing seems to look more and more amazing each time I see her. The golds and browns of this outfit are a beautiful combination, and make for a really gorgeous and rich impression. I want to try to introduce more gold into my wardrobe! But I think I'll leave that until Autumn. Rebecca looks very cute in the background! She was wearing a strawberry print, with strawberry buttons and strawberry cake accessories. She even had a strawberry hairpin to fasten her headbow!
Finally, my outfit!
Onepiece, hair accessories- Handmade
Parasol and necklace- Innocent World
Everything else- Offbrand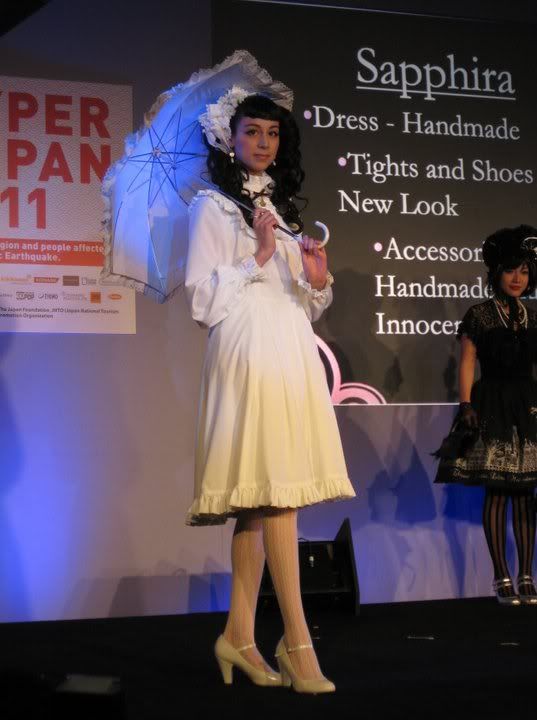 I tried shiro-loli for the first time! I'm very proud of this coord, because I made the onepiece myself (it's the one I wore for graduation). Although I did enjoy making my final collection, I feel that this is the prettiest thing I have ever made, and now it has so many good memories associated with it. I want to make ever so many more clothes in the future, and I want to improve my skills in design and making. Lolita fashion has been around for many years now, and I hope someday I'll be one of those people who will help keep it going. Lolitas and Lolita designers have given me so much inspiration and happiness, so it's my dearest wish to be able to do the same for others in the future.
All the Lolitas watching joined us on stage for the finale. One of the Baby staff picked out her favourite and awarded them a prize! The elegant girl wearing the black onepiece and floral garland was the well-deserved winner. Katie (the model in the red Metamorphose blouse) looks very aristocratic in this photo! I love to see blonde girls wearing Gothic, I think it's so striking.
My dear Amy, Rebecca, Katie and Tania, I'm sorry I don't have non-blurry individual photos of your beautiful outfits yet, but I will post them when I have them! Also, if anyone wishes to have their picture removed from this post, please let me know.
I hope you enjoyed reading about the fashion show! I certainly enjoyed being in it.
By the way, my livejournal is down at the moment, so I'm sorry for not replying to comments there. I feel very rude! Hopefully it will be sorted out soon.