Hello readers!
Today's post is the last one about my trip to Japan in January. On this day I went to Okadaya, one of the most fun shops in Tokyo! Okadaya actually consists of two tall buildings, and it is filled with all manner of useful and pretty things for sewing, crafts and costuming. I love spending time there! This visit was even more interesting, because there was an exhibition of Licca-chan dolls.
Have you met Licca-chan before? She is Japan's answer to Barbie. She's very cute, don't you think? I loved Barbie so much when I was growing up, but Licca-chan is also very appealing and stylish, as you shall see!
I'd love to wear this outfit for shopping, or even at work!
This is another of my favourites. The apron is styled like German costume, but the denim gives it a prairie look. She looks so sweet <3 This colour combination is nice and a little bit unusual too!
Another natural kei/prairie outfit.
I know it's a bit frumpy, but I do love a smock. Here Licca-chan looks like Red Riding Hood!
Another coordinate I can easily imagine wearing. I think she might have had a little rucksack on her back.
I'm not sure how these huge clumpy boots would work with this dress on a real person, but on a doll they're very sweet. I like this vibrant blue!
I love her hairstyle here! She looks so casual and fresh, as if she's dressed for the first day of spring.
Pink-haired Licca-chan! I suppose this is an outfit for a stay at home day.
Finally here's my outfit (not as cute I know....)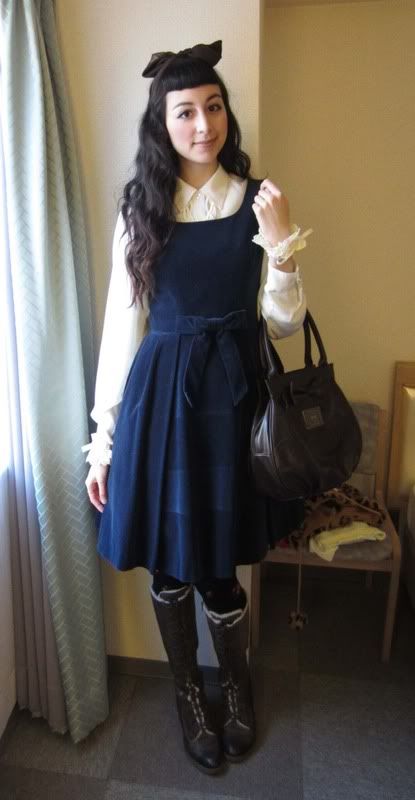 ~Rundown~
Scarf (worn in hair) and blouse- Vintage
Cuffs- Baby, the Stars Shine Bright
Jumperskirt- Emily Temple Cute
Bag- Metamorphose
Others- Offbrand
I had tea at the Keio Plaza hotel and later had even more tea and dinner with my dear friend :)
I hope you've enjoyed this series of posts! It's been fun to look back at my holiday and I've really enjoyed your comments. Thanks so much for reading!
Se you next time,
Sapphira
xxxx