Hello everyone!
Today's post is another installation of my trip to Japan. I'm coming to the end of these posts- I feel quite sad. However, it's nice to relieve these memories, and this particular day was one of my favourites.
Here's my coordinate:
~Rundown~
Hat: corgi-corgi
Blouse, scarf: Vintage
Skirt, socks: Innocent World
Basket: Disney Sea!
On this day we went to Harajuku again. This time we took a walk in Yoyogi Park and visited Meiji Shrine.... aaaand did some shopping!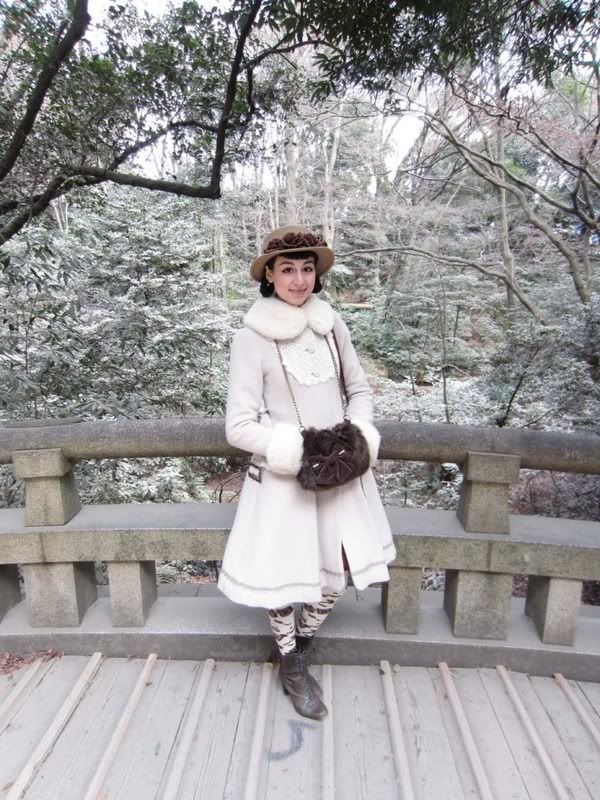 I took a photo here the first time I came to Japan! Somehow this picture came out looking as if it was snowing. I don't know how it happened but it's pretty! The coat is Victorian Maiden and the muff is Innocent World.
Meiji Shrine is so beautiful, this picture really doesn't do it justice. It has the loveliest atmosphere, so romantic!
We took a walk in the imperial garden. January is seldom the best time to see any sort of garden, but it was such a beautiful clear sunny day that even though the plants were sleeping it was a very charming place.
Empress Soken used to fish from this jetty. I never imagined empresses fishing, but this one did!
Once again I went to Laforet! I'd seen some adorable wrist cuffs in Baby previously; as luck would have it they were still there! I really like the delicate tulle lace with a rose pattern and the cream colour. These will be so handy in summer when I wear short sleeves. The shop staff was so kind and wrapped them very carefully, and let me choose between an Alice and the Pirates bag or a Baby bag.
Then I got a handbag in Metamorphose too! Again, the shop staff was lovely. I took a while to decide between this one and a smaller one with rose embroidery, and she explained their features with great care which was very helpful. In the end I chose this one because it holds a lot but because of the shape it doesn't look too hefty.
The most charming point is this metal plate. The scallops are so pretty too, and this particular shade of matte brown was just what I wanted.
The zips are also adorable! Look at the tiny Metamorphose swans.
The lining is cream and brown, very handy. No chance of losing things in here!
I still sort of want the smaller bag too, the square one. There's a red version that's really lovely.
Thanks for looking, and I hope you enjoyed the pictures. Oh dear, I really do miss Japan!
Sapphira
xxxx