Hello dear readers!
How are you this weekend? I hope you're having fun.
Some time ago I asked for some suggestions about how to improve this blog, and there was a request for some more information about where I get my vintage items from. If you read the rundowns of my outfit posts you'll notice a lot of vintage pieces listed! I have always bought second-hand clothes and appreciated their history, and nowadays I think they lend themselves very well to the antique style of classic lolita.
Since this is a subject I have a lot of enthusiasm about I've decided to make a series of posts about Vintage Shopping for the Lolita. Of course, due to my personal taste I can't help things being more geared towards classical style, but I hope that these posts will have something to offer to all lolitas and also to any person interested in vintage clothes.
This first post is about my favourite places to go vintage shopping here in the south of England. I've managed to go to second-hand shops in more exotic locations too but I'll leave that for another time.
1. Brick Lane, London
This area has a huge number of vintage boutiques as well as weekend markets which are great places to find a bargain. I like Rokit which has a couple of shops close to each other. There's a mix of different styles and eras, the clothes are in good condition and are cleaned before being put into the shop (this is not always the case in Brick Lane!) and the prices are reasonable. The selection of dresses and bags is particularly nice. If you are looking for a really stunning vintage piece, I highly recommend This Shop Rocks. Their speciality is ladylike clothing, from beautiful, delicate Edwardian gowns to adorable 50s circle skirts.
101 & 107
Brick Lane
London E1 6SE
131 Brick Lane
London E1 6RU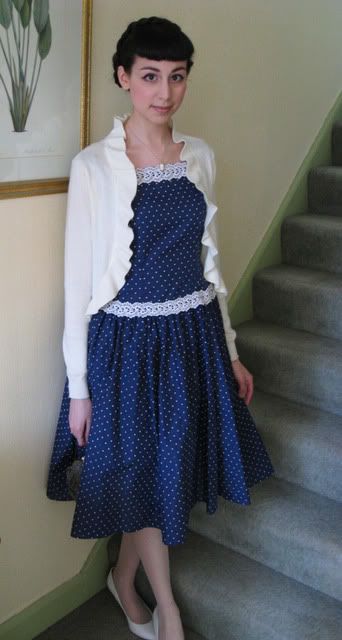 This polka dotted dress was bought at a Saturday market in Brick Lane
2. Lewes, East Sussex
This historical town boasts a number of flea markets, antique shops, antiquarian bookshops and a Norman castle. I like to go to The Needlemakers, where in the basement there are several antique/vintage shops. There's usually a Judy Garland record playing, another good reason to go! As well as clothes from every decade there are also ornaments, perfume bottles, books, records, make-up, costume jewelery and so on.
The Needlemakers
West Street
Lewes BN7 2NZ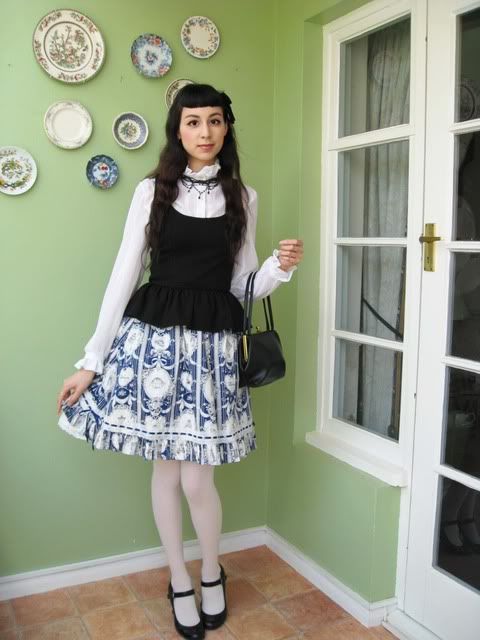 Black handbag from a flea amrket in Lewes
3. North Laine, Brighton, East Sussex
I grew up and live just outside Brighton, so this is my home ground. North Laine is quite a famous area filled with unique shops of every kind as well as cafes and even a toy museum. My old favourite is Snooper's Paradise, a flea market. I think it's getting nicer and nicer in terms of vintage clothing! The upper floor is now filled with lovely dresses and blouses and skirts and there are several clothing stalls downstairs too. In recent years there have been more and more vintage shops springing around North Laine. One of the nicest I think is Kate & Aud, which has lovely feminine items. The shop itself is rather pretty and classic lolita-ish inside.
Snooper's Paradise
7-8 Kensington Gardens
Brighton BN1 4AL
27 Trafalgar Street
Brighton BN1 4ED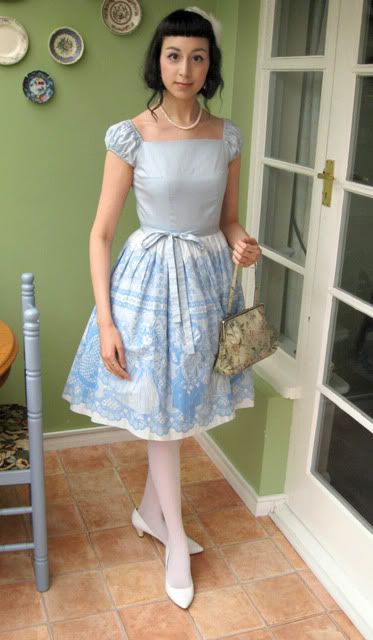 Bag from Kate & Aud
4. Charity shops, everywhere
Charity shops are a fixture in most British towns, and I love them! You never know what you might find- some days it will be nothing but sparkly tops with half the sequins off and giant bobbly sweaters, another day your heart will skip a beat when you discover among those sweaters a blouse with perfect lace or a beautiful summer dress.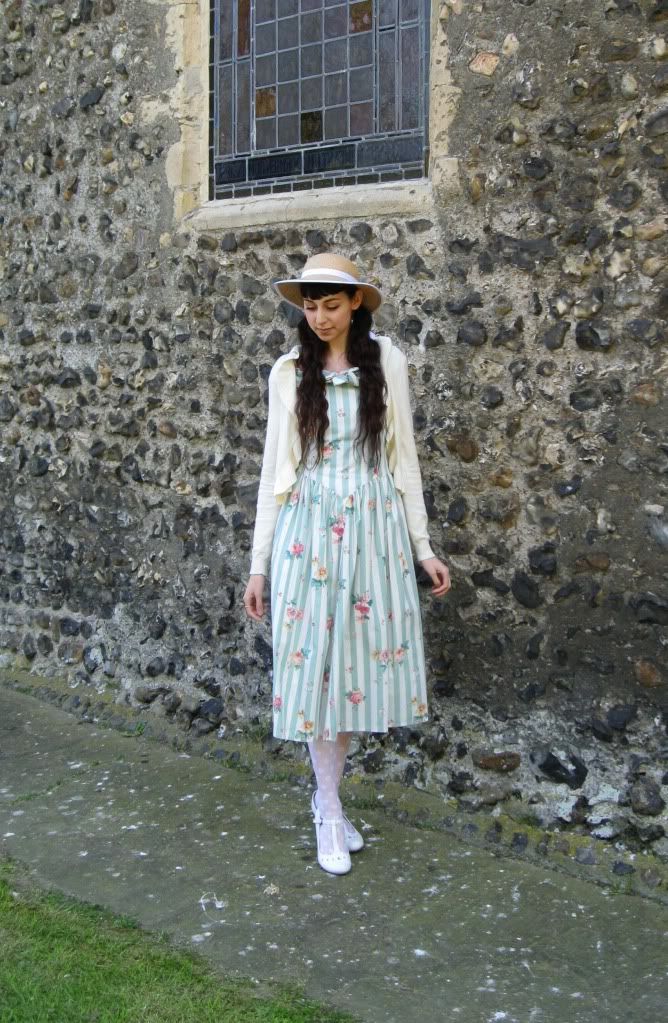 I found this pretty dress among the Halloween costumes in a charity shop!
I hope you enjoyed this post! I know that not all my blog readers live in the UK, but if you have the chance to visit perhaps this might come in useful. The next time I write about vintage clothes I think I'll share some general tips for vintage shopping, what do you think? Is there anything you'd like to ask?
Thanks for reading and see you next time!
Sapphira
xxxx