Hello everyone! Phew, my degree is over at last. Yesterday was the first time I felt really relaxed and happy in a quite a while. I had a date in town, and tried out an outift I have in mind for a Sweet Lolita catwalk I'm going to be in later this month.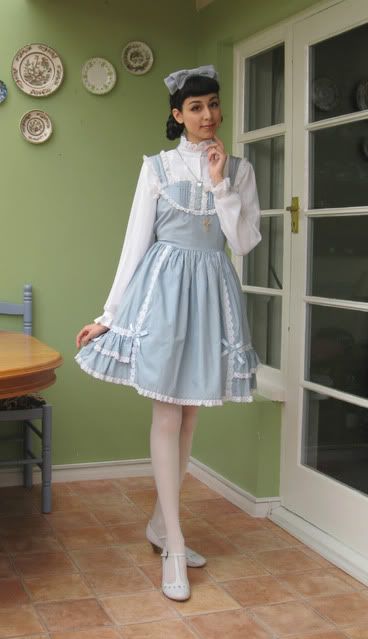 Jumperskirt- Metamorphose temps de fille
Blouse- Vintage
Headbow- Handmade
Everything else- Offbrand
As you know I favour Classical kei, so I had a go at making my style a bit more Ama-Loli to fit the theme of the catwalk. This JSK is probably the sweetest item I own. When I bought it, I had a craving for a dress that I could consider totally "Lolita", and I think it fits the bill! It's a rather simple design, with many typical features: lots of lace, a flat-cut bodice, tiers of ruffles, and so on. However, I think the pintucked yoke and the tiny white polka-dots of the fabric are the little details that lend this JSK a charm all of it's own.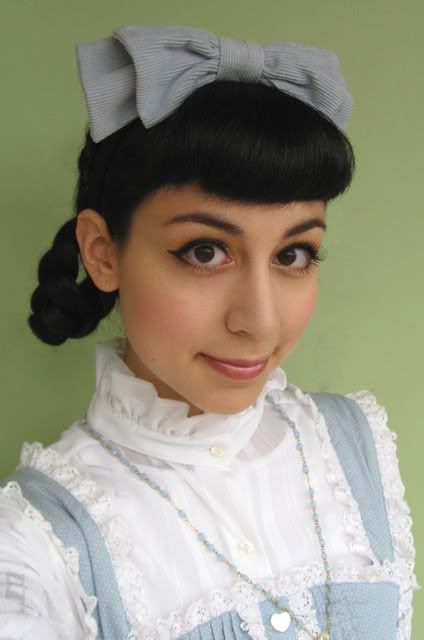 Ama-Loli is a offers an opportunity for cute headwear! I really love big bows, especially when worn with a Jane Marple-style coordinate. I think I will make myself some more!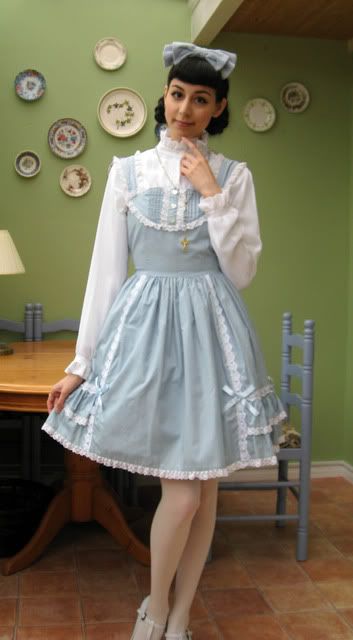 I might change the tights to sheer ones or white fishnets (fine ones) for the catwalk. I think this outfit won't look too out of place on the day! I'm taking part in a Gothic Lolita catwalk later at the same event, which I have something in mind for! I love Gothic style, but I haven't produced any particularly good Gothic coordinations yet (ie. they never look very Gothic). Let's hope that will change in time for the catwalk!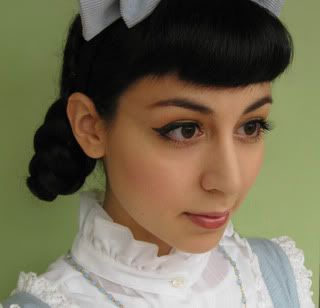 I had a go with some false lashes, too! Being blessed with a lot of lashes naturally, and being decidedly NOT blessed with skills in applying false lashes, I don't usually bother. However, once they're on, they are great fun! These are "natural type" ones from The Daiso. I like the thickness and length of these particular lashes very much. They seem to match my natural lower lashes well. A very good deal for ¥105! The only thing that I might complain about was the length of the lash strip itself. It's an odd sort of size, too long for half-lashes, but much shorter than the length of my eye. Three-quarter lashes? At any rate, this odd deformity made them easier to apply and as I generally prefer half-lashes, three-quarter ones didn't bother me too much.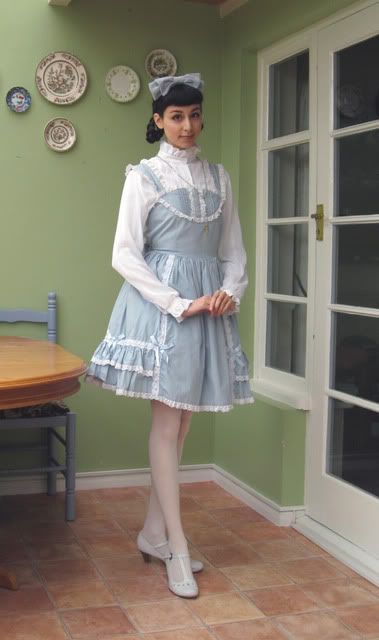 See you next time!