Hello everyone!
My time at university is drawing to a close, and so as you can imagine it's a very busy time for me. My final hand-in is in less than two weeks! I can't wait to see my collection finished, but the pressure certainly is on. Well, hopefully I'll be sharing a photograph of all six outfits with you before long!
I've also got the D live coming up this week! I've had a little break from work this evening and done a trial run of my outfit. I think it's a bit different from my usual style! For now, here's a 1950s style coordinate I wore over Easter to dinner with family friends.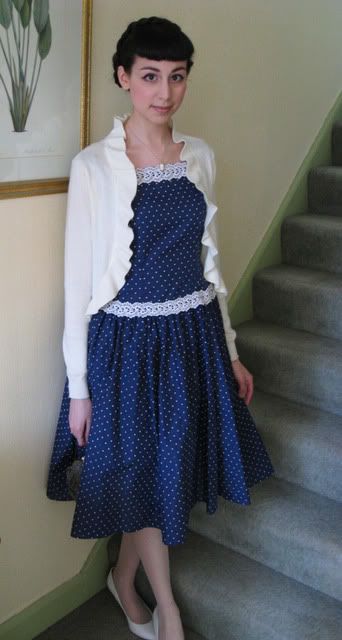 ~All vintage and offbrand~
I found this pretty polka dot dress at a vintage market in London's Brick Lane for just £5! It was in a bit of a sorry state and needed a lot of fixing, but actually I love to do that sort of thing so it suited me very well! Although this outfit has a retro effect, this JSK can work well in a Lolita coord too.
Oh, I wanted to say a special thank you to the reader who made me a Valentine a little while ago! I really do appreciate your sweet sentiment, and I feel a great deal of happiness to receive a lovely Valentine. Thanks so much for taking the trouble to make one for me, it means a lot to me.
Until next time then!
With love from Sapphira