Hello dear readers~
Today I'll show you an outfit, and tell you something exciting!
This time I wanted to make a really classical outfit. A high-collar onepiece is typical classic lolita. Oxford shoes and argyle print socks keep to the traditional, prim effect. The print of the dress includes little red flowers, and I picked these up by adding bordeaux to the rest of the coodinate.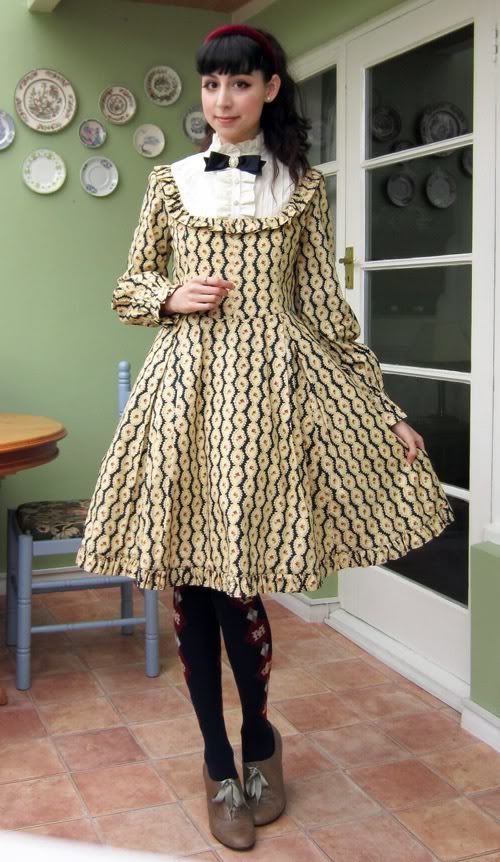 ~Rundown~
Onepiece: Handmade
Ribbon Brooch: Vintage
Socks: Metamorphose
Everything else: Offbrand
Now for my announcement.....
This summer, I am moving to Tokyo!
This is something I've wanted to do for a very long time, and finally the timing is right. I'm feeling rather sad to be parting from my friends and family here in England, but I'm looking forward to joining my friends there and meeting up with new people. I will stay about one year, and see how I do.
I will be studying Japanese for the first few months, and I'll look for a job so I can save up and do some travelling. I want to visit Hokkaido, Okinawa, Hiroshima, Osaka, Kyoto.... lots of places! I love Japan, and I'd like to see as much of it as I can.
I can't wait to start my Japanese course! I started to study Japanese by myself when I was 16 or so, and I had evening classes at SOAS for a couple of terms while I was at university. I've been taking evening classes once a week since September at a college here in Sussex, but it is very difficult to make much progress studying that way. In Japan I'll have lessons Monday to Friday, so with hard work and effort on my part I hope I'll improve my level quickly.
I'm also looking forward to going to lolita events and seeing my favourite bands. And those two most important activities- shopping and eating. It's going to be tough on my wallet, being surrounded by wonderful shops and beautiful clothes!
Of course, I'll keep blogging while I'm there. Thank you all for your lovely comments over this past year or so. I'm really enjoying getting to know you through this blog, and I hope you'll continue to follow me in the future. This is a very exciting step for me, and I hope this blog will become more exciting too!
See you next time,
Sapphira
xxxx