It's Elegant Poupée's first birthday!
I can hardly believe it was one year today that I started this blog. It has gone very quickly. I also can't believe how many followers I have now. Thank you very very much to all 195 of you! It means a great deal to me to think that there are so many people from all over the world who read my words and share my love for Lolita fashion. It's been wonderful to get to know you through your comments and your own blogs, and I hope we'll continue to get to know each other in this way!
I love blogging, and I hope I'll get better at it as time goes on. I feel quite proud that I have kept it up for a whole year, and now it feels as if blogging is part of my everyday routine. Thank you for your suggestions on improvements- I have a list of aims and a list of posts to write now, which I'll be working on. Thanks for all your support, which keeps my enthusiasm going and inpires me.
Today I have an outfit to show you! I must say, I quite like this one. I went to a maid café event yesterday, and I decided to dress up a bit. Black and white and ladylike was my inspiration!
~Rundown~
Hat- Vintage
Onepiece and sash- Handmade
Everything else- Offbrand
I've long admired those 18th century ladies with classical white dresses and black satin sashes, so I had that sort of an image in mind, which is why I added the hat. I also wanted to use black and white striped socks to add something a little unexpected.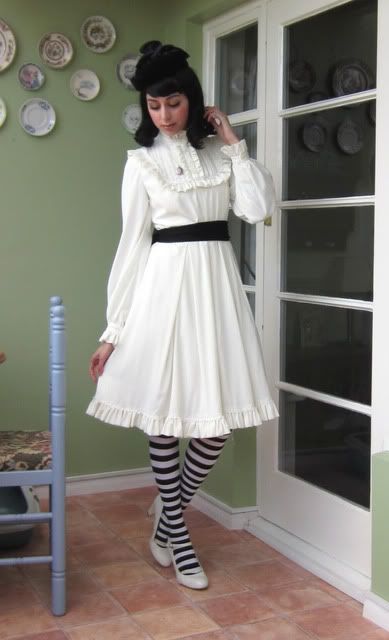 I tied the sash in a bow at the back and fastened it with a brooch:
It would have been nice if the sash was longer!
I had a pancake and tea at the café. The cute and lovely maid, Merry, wrote my name on the plate in chocolate sauce.
I'm very impressed that she did it so beautifully, since my loooong name must have been quite a challenge! We did a spell to make the pancake more delicious- "Oishikunare, moe moe kyun!" It seemed to work quite well.
Thanks again for all your comments, follows and support over this past year, and here's to many more years of Elegant Poupée!
Sapphira
xxxxx